All Certified NeuroTransformational Coaches have first completed a recognized coach training program* before completing all four modules of BEabove Leadership's
Neuroscience, Consciousness and Transformational Coaching,
 a total of over 81 classroom hours (in addition to their core coach training). Upon completion of these modules, our certified coaches have then completed a rigorous
Certification Program,
which includes additional reading, review, coaching supervision and feedback. At the end of this program, they must pass a comprehensive written test (essay format) covering key neuroscience topics, as well as a one-to-one interview and coaching proficiency test. We're very proud to recommend all our CNTCs as transformational coaches and experts in the neuroscience of human development.
*in some rare cases, they may instead be trained as therapists — see individual information for more detail.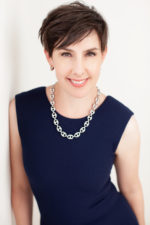 Lisa holds a Degree in Social Systems Psychology and is a Professional Certified Coach with qualifications in Leadership, Co-Active and Neuro Transformational Coaching.
She has an extensive background in International People Strategy, Change Management, Human Dynamics Engineering and brings more than two decades of delivering strategic change through the power of people in complex matrix organizations across more than 130 different countries.

Lisa's passion is amplifying people's strengths and helping organizations advance through 21st century leadership paradigms that empower individuals and teams to deliver long term, positive, impact in our VUCA world.

Lisa is honored to have received the Deloitte BOLD Leader award for her work in visionary leadership. She brings her work to life on a daily basis through her plural roles as the CEO of Leadership Labs; Executive Board Member of She Dares, Go Laadli, Glimpse; and Co-Host of the People Impact podcast.

As a coach Lisa has worked with the likes of Google, Ebay, Atlassian, Oracle, Nike, Philips, OSCE, DP World, BBC, Oxfam, Cornell University and many more. Her coaching style has been described as: grounded, authentic, courageous, holistic, inspiring, and the embodiment of connected and compassionate leadership.

Next to people, Lisa is also passionate about animals and you will often find her enjoying a walk with her dogs in the forest or on the beach near her home.
Leadership Labs is changing the future of leadership for the better.
Our bottom Line:
We are in the business of human development because we believe in the power of people.
We are in the business of leadership because we believe that every person is a leader, it's just a matter of  how much awareness we hold about out impact.
We are in the business of coaching because it is the most effective way available to humans to evoke transformation.
Leadership Labs work globally with individuals, teams, and entire organizations to create and amplify systems of effective leadership.
To read more about our work please visit www.LeadershipLabs.eu.
Send Message to listing owner