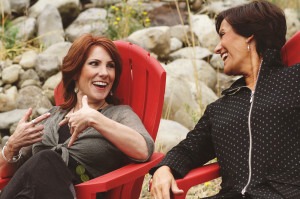 BEabove Neuroscience, Consciousness and Transformational Coaching Program 
OVERVIEW
The BEabove coaching program is designed to be a mix of education (about 10-20%, depending on the call) and one-to-one Co-Active coaching. Each 45-minute call will have a theme and a tool from our research on consciousness and/or neuroscience, as well as handouts and worksheets that are accessible to clients through a password protected area on our website.The program gives clients a real experience of powerful brain-based coaching tools.
For those who are coaches, this is a great chance to learn about these tools from the inside out. For everyone, the educational component grounds the learning in deep and lasting ways.
This program is tailored to YOU! You can start at any time and bring all your own concerns, goals, and areas of focus. We'll simply use the "tool of the week" to work on whatever is going on in your life.
The program takes places over six months, which can be extended into new topics for an additional six for those who are interested. (See below for topics by call.) There are two calls per month of individual coaching. Two options are available:
One call with Ann, the next with Ursula ~or~
Choose (or stay with if you are an existing client) either Ann or Ursula
NOTE: If you choose the Ann/Ursula alternating option, we will keep a joint Google Doc with notes from each call, accessible only to each other.
Register Below
Part 1 or Part 2 $3600
Part 1 and 2 must be taken in order.
Part 1

Part 2

$3400 (one payment)
(save $200)
2 Payments of $1750 (90 days apart)
(save $100)

6 Payments of $600 (monthly)

PART ONE ~ TOPICS and TOOLS
#1—Introduction to the to 7 Levels, Part One
TOOL: Where are you? The Circle Process
#2— Introduction to the to 7 Levels, Part Two
TOOL: Walking the Levels in reflection
#3—Neuroplasticity
TOOL: The Five Keys of Neuroplasticity
TOOL: Red Lines/Blue Lines
#4—The Pre-Frontal Cortex
TOOL: Too Much or Too Little assessment and planning
#5—Stress and the Pre-Frontal Cortex
TOOL: Coaching and Stress
#6—The Two Hemispheres of the Brain, Part One
TOOL: 100/100
#7—The Two Hemispheres of the Brain, Part Two
TOOL: Diagonal Thinking
#8—The Embodied Mind
TOOL: Literal Coaching
#9—The Intuitive Mind
TOOL: Metaphor Process
#10—TPN/DMN
TOOL: Crossing The River
#11—Integration
TOOL: Speaking from Above to Below
#12—Completion
TOOL: BEabove Invocation and 10 Words Process (reflection on past six months)
PART TWO ~ TOPICS AND TOOLS
#1—Connection and Values Integration
TOOL: Valugration
#2—The 7 Levels of Effectiveness
TOOL: Walking the ladder – again
#3—Saboteur Management—Left Hemisphere
TOOL: Form and Experience
#4—Wounds and Healing Fields
TOOL: Wounds and corresponding healing field
#5—The mirror nature of the 7 Levels
TOOL: Speaking from Above to Below
#6—Integration and Strengthening the PFC
TOOL: Taking in the good
#7—Integration and Strengthening the RH
TOOL: The Nature Process (can also be done indoors)
#8—Saboteur Management—Right Hemisphere
TOOL: Part of my Being
#9—Integration and Resonance
TOOL: Resonance and Dissonance
#10—Integration and The Higher Brain
TOOL: Loving What Is – or What is Perfect
#11—Synchronicity
TOOL: Coaching Invocation
#12—Reflection, the journey
TOOL: Walking the timeline of the past year
 ABOUT ANN AND URSULA
Ann Betz and Ursula Pottinga are both Certified Professional Co-Active Coaches. They combine the BEabove model of the Seven Levels of Effectiveness with both coaching and neursoscience methodologies to help their clients:
Create lives of greater fulfillment and ease
Heal old wounds and disempowering beliefs
Discover their innate capacity for joy and success
Develop new patterns and practices that lead to greater understanding, awareness and higher levels of effectiveness.
Ursula Pottinga is known for her quirky humor, deep compassion and grounded wisdom. She is also a certified prosperity guide and uses her astonishing intuition to access worlds her clients can't always see for themselves. Ursula loves to coach anyone committed to their own growth and development, and also specializes in the hospitality industry. Contact her at [email protected]
Ann Betz is a lively, irreverent, philosopher, brain expert, and poet. She is on the faculty of the Coaches Training Institute where she also serves as neuroscience consultant. She writes a popular blog on coaching and the brain and is passionate about helping her clients integrate all aspects of themselves. Contact her at [email protected]
In addition to the neuroscience coaching program outlined above, each also accepts individual clients for one to one coaching.