All Certified NeuroTransformational Coaches have first completed a recognized coach training program* before completing all four modules of BEabove Leadership's
Neuroscience, Consciousness and Transformational Coaching,
 a total of over 81 classroom hours (in addition to their core coach training). Upon completion of these modules, our certified coaches have then completed a rigorous
Certification Program,
which includes additional reading, review, coaching supervision and feedback. At the end of this program, they must pass a comprehensive written test (essay format) covering key neuroscience topics, as well as a one-to-one interview and coaching proficiency test. We're very proud to recommend all our CNTCs as transformational coaches and experts in the neuroscience of human development.
*in some rare cases, they may instead be trained as therapists — see individual information for more detail.
Sandy Russell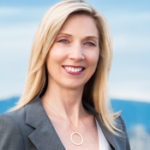 As a licensed Neuroscience & Effectiveness Trainer, Chartered Professional in Human Resources, Workshop Leader and Certified Coach, Sandy brings an expertise in the links between higher personal consciousness, neuroscience, leadership effectiveness, employee engagement and a high performance culture. She empowers her clients to tap their inner wisdom, leverage their strengths, raise their consciousness, move beyond challenges and create highly effective values-based action.
Sandy brings over 18 years' experience coaching and training teams, executives, managers, high potentials and emerging leaders both internally and in private practice since 2002. Her experience in a variety of industries with top employers has given her key insights into the workplace practices, and leadership qualities that contribute to a healthy organizational culture.
She is dedicated to helping individuals, organizational leaders and HR professionals create cultures where people are evolved, empowered, effective and engaged. She is passionate about offering enlightened and holistic, inside-out solutions that help people realize their full potential in leadership, work and life. In 2009, she received the International Coach Federation B.C. PRISM Award (Honorable Mention) which celebrates excellence and business achievement through professional coaching as a leadership strategy.
Sandy enjoys helping clients with executive & leadership development, effective people management, team cohesion & conflict resolution, navigating change, career/purpose and communication skills.
Send Message to listing owner