All Certified NeuroTransformational Coaches have first completed a recognized coach training program* before completing all four modules of BEabove Leadership's
Neuroscience, Consciousness and Transformational Coaching,
 a total of over 81 classroom hours (in addition to their core coach training). Upon completion of these modules, our certified coaches have then completed a rigorous
Certification Program,
which includes additional reading, review, coaching supervision and feedback. At the end of this program, they must pass a comprehensive written test (essay format) covering key neuroscience topics, as well as a one-to-one interview and coaching proficiency test. We're very proud to recommend all our CNTCs as transformational coaches and experts in the neuroscience of human development.
*in some rare cases, they may instead be trained as therapists — see individual information for more detail.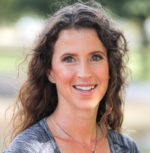 Alexandra launches high performers, subject matter experts and leadership teams, to reach their full potential and make a greater impact. As a seasoned executive herself, with both business and technical experience, Alexandra helps clients access their full leadership range.
Alexandra believes that, through greater self-awareness, higher levels of engagement and personal commitment to a greater purpose, leaders are able to achieve much more than they ever thought
possible.
Prior to founding her coaching and consulting practice, Alexandra was an executive with TD Bank Group. Her almost 20 years of experience in financial services includes heading TD's online bank and leading a number of enterprise-wide programs in risk management, and governance and control. She has also worked in TD Securities, eBank Operations, corporate security and technology. Alexandra's experience also includes leading global client services at Algorithmics, and a variety of roles with Procter & Gamble, General Electric and General Motors.
Alexandra has a B.Sc. and M.Sc. in Mechanical Engineering from Queen's University and an MBA from Schulich School of Business. Alexandra is a certified coach (CPCC, ACC) and a certified neuro-
transformational coach (CNTC). She is a graduate of CTI's Leadership Program and a certified practitioner of The Leadership Circle TM Profile (TLC). Alexandra also has training in Organizational
Relationship System Coaching (ORSC).
As part of her commitment to developing the next generation of leaders, Alexandra is a mentor in the Transformational Leadership course in Richard Ivey School of Business MBA program, and is an advisor in the Queen's University Technology, Engineering and Management (TEAM) program. She was previously an Executive-in-Residence at the Ian O. Ihnatowycz Institute for Leadership (Ivey) and has written on Leader Character. Alexandra has taught derivative securities, in the MBA and Master of Finance programs at Schulich School of Business. Alexandra also delivers talks and workshops on leader impact, effective teams, career development and career transition.
Send Message to listing owner