Anyone who knows Ann and Ursula knows they are professional level shoppers, perhaps most especially when it comes to jewelry. That's why when Ann strolled past Jennifer Lamprey's jewelry booth at an artisan market in Santa Fe, she knew she'd be there for a while. She was struck not only with Jennifer's beautiful craftsmanship, but by the words that Jennifer stamped into some of her designs – snippets from Don Miguel Ruiz's The Four Agreements.
A friendship was born and just a handful of months later, Jennifer has collaborated with Ann to create a gorgeous line of necklaces, rings and cuffs inspired by BEabove's Seven Levels. 
Read on to find out more about Jennifer's business, her inspiration, and how you can get your hands on one of these stunning and energetically aligned pieces.
---
How long have you been in the business of jewelry design? How did your business begin?
About 3 years ago, I moved from Boulder to Santa Fe, and I was only here for a month or so before I fell and broke my leg and I couldn't work – I'm a massage therapist. I had a few months where I was doing a lot of design research and taught myself how to wire wrap so I could stay sane while I was recovering. I had taken a metal smithing class a few years ago but hadn't really been able to explore it further, and all of a sudden I was gifted this time to be creative. I call it my "happy accident". The business was born out of that.
Now I'm happy to say that it's becoming a bigger and bigger part of my life and how I make a living.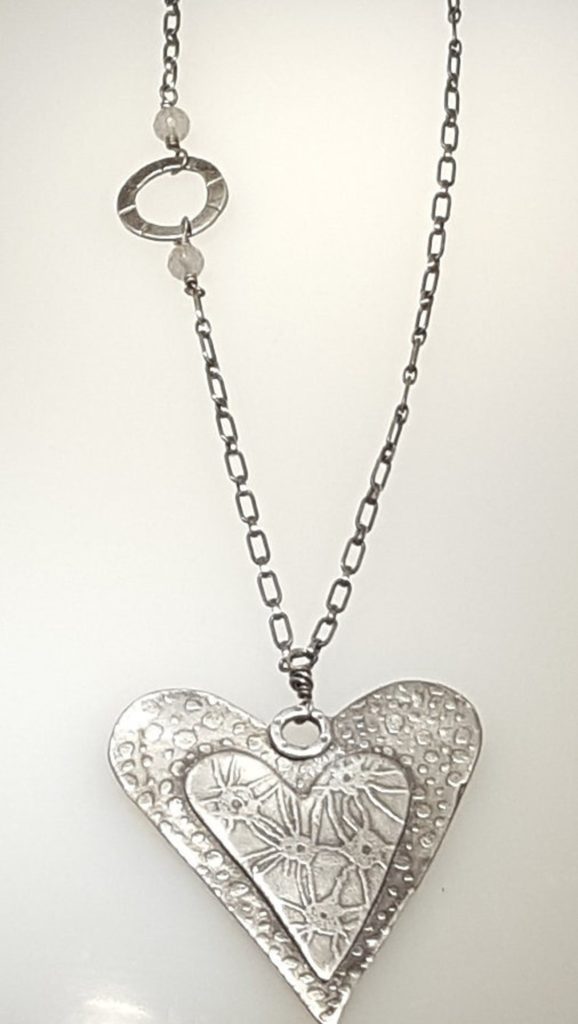 How did you meet Ann?
One part of my line of jewelry is called the Desert Wisdom collection. When I was recovering from my accident, I was listening to a lot of Eckhart Tolle and Miguel Ruiz, and it finally occurred to me to put some of this good juju into the metal. I have a "Four Agreements" cuff and bangle set, and I'm pretty sure that when Ann came by my booth at the Railyard Artisan Market in Santa Fe, she spotted that and struck up a conversation and we hit it off immediately.
We could just talk and talk about these things for hours. We became friends that way and shortly after she asked me if I was interested in creating a design for her BEabove work. I was SO into the work that she was doing and it was truly synchronistic that we came together the way we did.
How would you describe your style?
My style ranges from sleek, simple and modern, all the way to rough, rustic and heavily oxidized. It's kind of a celebration of yin and yang. Playfulness is also important to me in my designs – there's a whimsical element to many of them. I think it's good for us to be reminded of the importance of play in life.
In addition to these two different lines (the sleek and modern, and the rough and rustic), I have the Desert Wisdom collection which I mentioned earlier. This collection features hand stamping with quotes and phrases inspired by thought leaders. Putting those words and phrases into the metal really feeds my soul. In fact, this whole process is an expression of my soul.
Where do you find inspiration as a designer?
As a relatively new jewelry artist I feel like I'm constantly evolving – inspired by sculpture, architecture, nature, and inspirational quotes from thought leaders. Living in Santa Fe has been wonderful for my work as well. What I've found about Santa Fe is that there is a community here. In moving here I have found my tribe. So it is being around other creatives and artists that also inspires me, being able to have conversation about process has really been fantastic.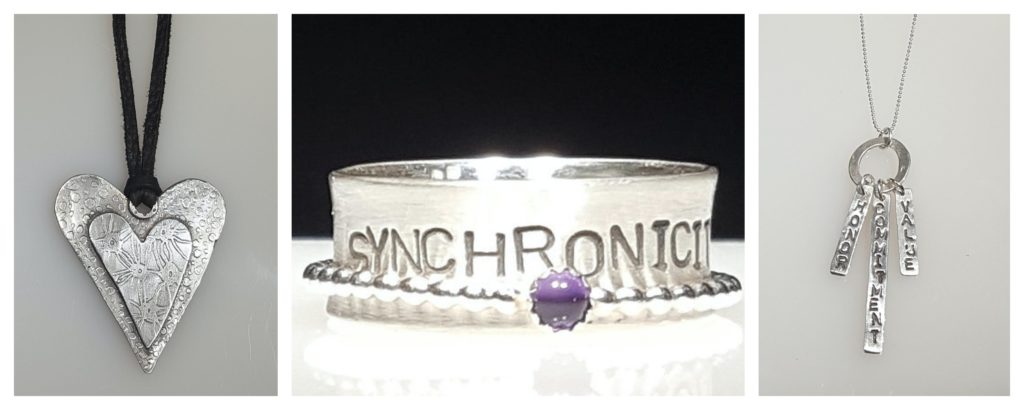 Describe a few of your favorite BEabove pieces. What makes them stand out to you?
One of my favorite pieces is the neuron heart necklace. Ann and I collaborated on that one so it was really fun to create. It's a sterling silver heart etched with neurons and cells; the piece is accented with labradorite beads which help to raise consciousness and deflect negative energy. This necklace really brings together the heart and science of the BEabove work in a beautiful and creative way. There was definitely some "innovation" energy between Ann and I on this. She's one of my most favorite people to work with.
I have also created a cuff and two different rings that have the Seven Levels stamped into them.
The cuff is silver with each of the Seven Levels hand-stamped into the inside, and light and dark dots on either edge to symbolize yin and yang.
One of the rings is the synchronicity ring, which has the word "synchronicity" hand-stamped into the metal. It is a spinner ring, which means there is a smaller band that wraps around the center, and features an amethyst stone. This stone has properties which encourage inner strength and clarity of mind, which beautifully reflects the synchronicity of the Seven Levels.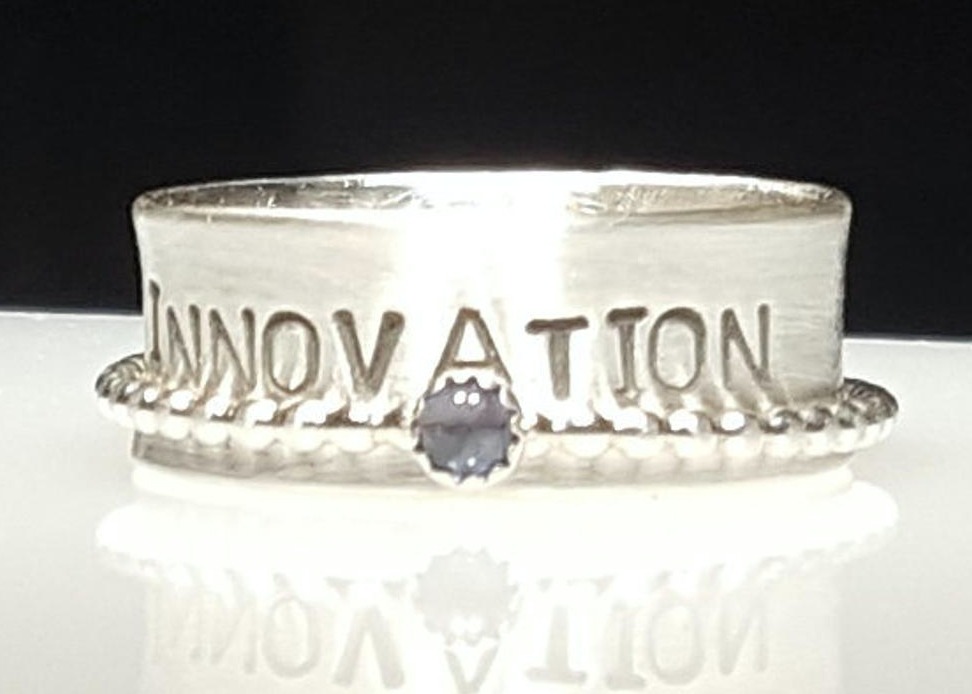 The other ring is the innovation ring, also a spinner ring, which has the word "innovation" hand-stamped. It features an iolite stone which is a purple-blue color and encourages personal growth to become your highest and truest self.
And finally, I created a necklace with the words "honor", "commitment" and "value" stamped into a vertical hanging silver charm. Each of these pieces is a beautiful and gentle reminder of how we are all working toward the highest expression of ourselves. They stand alone as beautiful pieces of jewelry, but there's also a deeper layer of meaning for those who are tuned into it.
What's to come?
There is more to come! First, there's something in my line that Ann and I thought would be great for the BEabove line. It's earrings and a necklace with the words "choose love" stamped into them. Every moment we have the opportunity to choose to act from love or act from fear, so this is a reminder to act from love.
There is possibly a bracelet is in the works as well as a smaller, more "everyday" version of the neuron heart necklace.
How can we connect with you and purchase your jewelry? 
I have a Facebook page and an Etsy site where you can see my work. On the Etsy site there's a specific category called "BEabove Jewelry" where you can see all the designs I mentioned above.